Subsonorous
Resonant Elements of The Gathering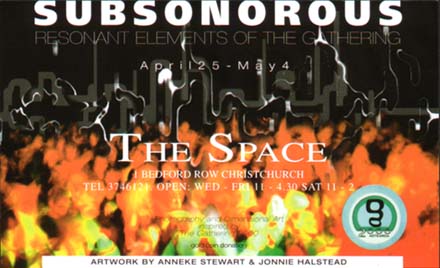 The Space Gallery
1 Bedford Row, Christchurch
April 25 - May 4
Photography and Dimensional Art inspired by The Gathering 2000
Artwork by Jonnie Halstead and Anneke Stewart
All artwork in the exhibition is entirely based around music, the lifestyle and culture that surround the electronica dance scene.
Jonnie Halstead works as a commercial photographer and is involved in electronica music/club promotions with profiled magazines Pavement and RE:MIX. He is a contracted performance and promotions photographer for the National School of Dramatic Arts (NASDA). The exhibition features a photographic documentary of The Gathering 2000, artistic images of the event showcasing the true atmosphere of the dance arena, and experimental colour projections that are based around musical elements.
Anneke Stewart is a renowned multimedia artist with a Bachelor of Arts in Craft Design from Christchurch Polytechnic. Anneke's sculpture incorporates the theory that all matter has a vibration, resonance and musical frequency. Her interpretations of beat structuring and musical frequency is fed by an interaction with dance culture, and influenced by elements of The Gathering.