Gathering momentum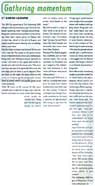 The 200 DJs appearing at The Gathering 2000 will gain international status, says Christchurch-based "gathering crew" member, Simon Kong. Kong said submissions to perform at the three-day New Year's dance party on Takaka Hill, Golden Bay, closed at the end of August, and weeks would be spent debating who would play, where, and when.
DJs, VJs (video jockeys) and around 50 live acts were needed for five zones at the party: house, drum'n'bass, hardcore, trance, and ambient/jazz. Kong, with two Wellington-based "partners in crime" will head to the capital this month to decide who will rock the house tent. "We work out how we want it generally to flow over the two days, and we draw a curve diagram. Then we listen to the tapes and place them on the curve, so if they're up, like party music, we put them at points where the party's going to be more pumping."
With 48 hours to fill, around 32 DJs were needed, each to play for an hour and a half. Selection was based on music, rather than mixing, which could be "sorted out," Kong said. "We don't go by names or who's who or what's what, it's pretty much based on the music."
DJs had to send in a tape of their work, to be up for selection. The standard of submissions was "incredibly high" last year, he said. There were DJs from Canada and Australia, but most were from New Zealand.
Playing at The Gathering gave DJs credibility and an international status. "You can go anywhere on the planet and say 'I played at The Gathering' and someone in the room will know what you're talking about."
DJs were paid $100 each, as well as receiving free transport via buses from central locations, but most didn't play for the money. "If they're coming for the money it's actually pointless, so it's more a gesture of appreciation than trying to pay them for what they're worth."
"Fringe-type" performances were sought, such as puppet shows, stilt walkers and juggling teams, Kong said. Last year teddy bears and cave men were seen wandering through the forest. "It's sort of quite bizarre behaviour, but in the context of The Gathering, it's quite amazing. We look for people who've actually got a performance 'cos, you know, everyone's a fire juggler, but we feature people who've got a kind of co-ordinated presentation," Kong said.
Short-film artists were being sought to provide movies for an added feature this year, a theatre, which would run from the day before The Gathering's official opening. People were let in a day before the party started to prevent traffic jams on the one-way road, Kong said. The theatre would provide much-needed entertainment for the first night. "Last year someone climbed a cliff face and had to be ambulanced out 'cause they were bored and waiting."
Apart from the paid performers, the crowd would perform too, and people were encouraged to bring things such as fire poi, or bubble-blowers, Kong said. An en-masse fire performance was a special feature of The Gathering. "Last year there were about 300 people doing fire at once, over New Year's, with fireworks going off, everything going crazy, which is just wicked."
The Gathering 2000 begins on December 31 and runs until January 2.